Winter Retest: November 12-16
Spring Retest: February 11-22
Spring Part 1: March 4-15
Spring Part 2: April 8-12
Summer Retest: TBA
Parent Portal - To See your Child's Scores
This guide will help you navigate Pearson Parent Portal. You can use the Parent Portal to view your child's ISTEP+ preliminary results for the Spring 2018 testing. You can also view their written responses to Part 1 questions, as well as request a rescore. A letter was sent home with your child's specific claim code that grants you this access.
Pearson Perspective
Perspective is a supplemental online instructional resource site that provides thousands of enrichment learning resources to help teachers and families improve their students' performance. All of the supplemental resources are aligned to the Indiana Academic Standards, to ensure the students have access to materials that support their curriculum. Educators can use simple navigation in Perspective to create assignments, and personalize instruction and remediation to each student's specific needs. Families can use the Learning Locator to access personalized learning for students based on their individual state test scores.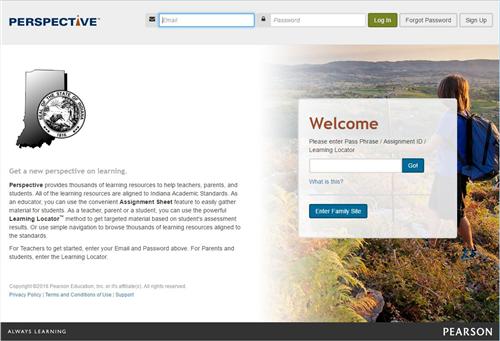 IDOE Assessment Information: ISTEP+ Grades 3-8
http://www.doe.in.gov/assessment/istep-grades-3-8
The website offers among other things:
Blueprints for what standards are represented on ISTEP

Item Samplers for ELA, Math, Science, and Social Studies

Instructional and Assessment Guidance

Released Part 1 Applied Skills (open-ended) Items and Scoring Notes for Part 1 practice and guidance on how open-ended items are scored

Cut Scores & Performance Level Descriptors (PLDs)

Content Specific Resources including math tools, math reference sheets, calculator policy, important vocabulary and more.
Sites for Practice and Printables
Experience TestNav 8 (ePATS)
-
http://download.pearsonaccessnext.com/IN/in-practice-tests-links.html
Overview: Pearson provided online Practice Tests to experience technology-enhanced item types that will appear on the online test. Also includes blank writing and math prompts to prepare for Part 1 Applied Skills (open ended testing format).
Account Credentials: No usernames or passwords are required.
Videos for Taking 2018 ISTEP+ ONLINE
Understanding Online Responses to MATH Part 1:
Understanding Online Writing Prompt ELA Part 1: